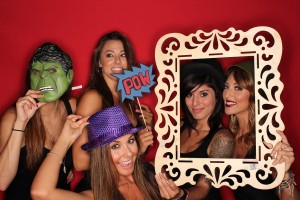 Magic Smiles supplies the best Photo booth rentals in Long Island. We not only provide superior quality picture booths but also help you build sweetest memories from your personal occasion by our professional services. The rented booths can be setup anywhere as well as your guests may take their own photos anytime. A lot of the people prefer to setup these Wedding photo booth and present an unconventional touch to the most remarkable day in their lives. The hard copies are printed and given to guest within 10 seconds and if indeed they wish the photos may be delivered to their e-mail as well. After the event there are options to see the photos on our website gallery which really is a password secured for you.
The guests may take group photo of almost 10 people or more may be accommodated within the picture booths.
You will find options to include logos to the photo strips so that special memory can be maintained and frames are also available for an additional fee if you wish to purchase them. These frames protect your photostrips really well. So if you're engaged and getting married within next couple of months, do not forget to hire a wedding photo booth for wedding reception that'll be remembered by the one your guests so long as they live. Wont you prefer that?