GREEN SCREEN PHOTO BOOTH RENTALS
New York, New Jersey and Long Island Photo Booth


Green Screen Photo Booth adds a new layer of fun to any Event! With Green Screen, your guests will be posing in front of a green backdrop, but on our live preview screen, your guests see themselves at Eiffel Tower or even a scene from Star Wars. Our green screen software replaces the chromakey background with spectacular scenes of your choice. The images are processed in real time. This means your guests are posing with the scene, not their imagination. Inspired by Hollywood filming techniques, Magic Smiles brings the magic to your event. Our Green Screen is designed to entertain your guests and provide them (and you) with a unique keepsake of your special day.
We use the latest technology and equipment to transport your guests to a fantasy location of their choosing and with over 4000 different backgrounds to select from. We are sure to have something for every one.
 The Green Screen Sets up looks like a mini photo studio and takes up an area of about 8ft x 8ft.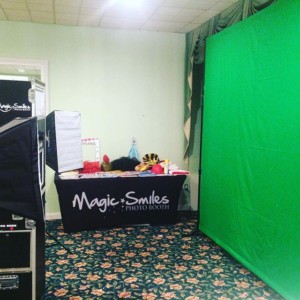 From start to finish the photo process is fast and easy. Your guests will choose from 4 backgrounds selected by you, Then they will let the photo booth attendant know which background they would like and then the magic happens. With our live preview screen your guests can see and position themselves how they want to interact with the background they selected. Our attendant will then count them down and there photo is taken, Once taken they will have the photo in there hand in bout 15 seconds, we use the fastest commercial printers on the market, Our prints are dry and have a clear coat to protect them, and are the same quality that you would get from  lab.
At the end of the night the Host gets a USB thumb drive these will have every photo from your event on it, you can use this to print and share your images in any way you want.
Green Screen is a $100 upgrade on any package.
A DEPOSIT AS LOW AS $200 WILL HOLD YOUR DATE