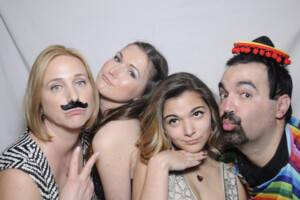 If you're looking for an affordable or Cheap Photo booth rentals for your wedding, birthday or general event entertainment then look no further. Our cheap photo booth package is perfect for any event – no matter the budget. If you've thought about having a PhotoBooth then take a look at what Magic smiles has to offer. Our 2 hour hire package comes with a attendants, unlimited visits to the photo booth, a HUGE amount of props, Online gallery & MUCH more for only $299. You cannot beat that cheap price.
We make sure we don't hold back on Photo Booth Hire as we know that you want to make your event as unique & special as you possibly can. Our modern Photo booths come with a 12" touch screen , DSLR Canon 3ti camera & Dnp Instant-dry printers. On top of our high spec booths, we also offer a MASSIVE selection of photobooth props that are constantly renewed and updated every month to ensure the best photos.
Don't have enough to treat your guests to extras? It's not a problem, we understand photo booth hire could be cheaper & this is where we try and help you out. For a long time we have noticed that companies charge a premium for entertainment products such as ours but we want to make a change. At Magic smiles we make it one of our primary objectives to ensure that your event is the best it could possibly be without breaking the bank. Our key rings are bought to every hire and your guests have the chance to make a memory last a lifetime
So before you think a Photo Booth might break the bank then we suggest taking a look at our Bronze photobooth package online! This package is perfect for a general 2 hour hire no matter what event you're having. So contact us by phone on 917-755-8177 or drop us an email here and we will make sure we can get the best prices for photo booth hire at your event!
We serve new York city, queens, long island and staten island
If you're looking for Cheap Photo booth rentals, then follow our guidelines on what to look for when booking a cheap booth right here!