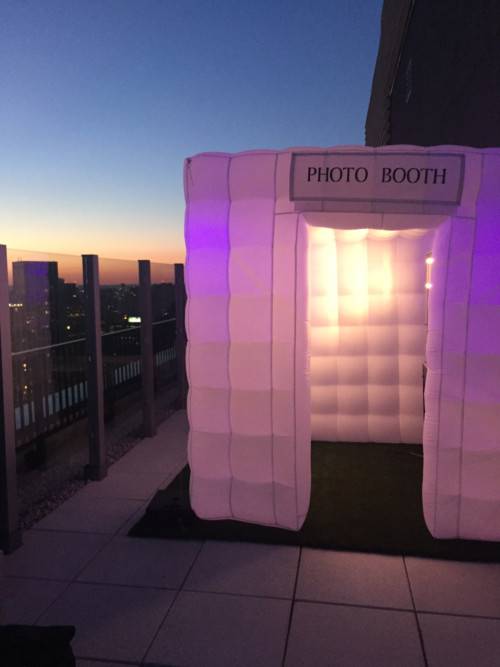 INFLATABLE PHOTO BOOTH
No matter what type of event you're having, you simply can't go wrong with a inflatable photo booth rental. Not to mention, some people call it a L.E.D photo booth or a bubble photo booth. The inflatable booth contains 16 different lights in it and people Absolutely love this thing. Its Very Popular in New York City, New Jersey, Long Island and Connecticut area.  This inflatable photo booth is great for all events like wedding, bar mitzvah, sweet 16's, proms and corporate events. Whether your event is outdoors or indoors, this inflatable photo booth can be set up anywhere.
As it comes with fun Inflatable photo booth props, touchscreen operated, 1-2 attendants  and it only takes a few seconds to set up and take down. Additionally, the L.E.D photo booth rental lights are customizable! There are 16 different color scheme changes with choices of fade, strobe or one solid color. Also, you can even choose the color of the bubble booth so that it matches your color scheme! Not to mention, this  inflatable booth will quickly become the center of attention at your event or celebration.
Furthermore, our blow up Photo Booth rental is an alternative to our open style photo Booth. Both photobooths are very popular at events, you can't go wrong with either one. The Size for this led inflatable photo Booth rental is 8×8′ . So, what are you waiting for, rent a inflatable photo booth today.
Modern Design
Modern, beautiful, and aesthetically pleasing. We provide the best bubble photo booth rental experience.

Incredible Quality
Our HD Photo's via our DSLR Cameras and studio lighting make your photos look spectacular!

Professional Staff
We have the most engaging and friendliest staff in the photo booth industry in New York City. Professional, amazing personalities, and easy to work with.

Unlimited Printing
Lightning speed HD prints. Unlimited strips and other upgrade features to
4×6, single large photos.
Slideshow
Here's a slideshow of guest taking pictures in our inflatable photo booth rental
HD Photography
Professional lighting, DSLR HD cameras, and trained staff make sure that your images are the best-looking images you have ever taken in a bubble photo booth in your whole life. Our pictures capture memories that last a lifetime.
Custom Print Design
We have professional designers that make sure each print template is exactly what our client want for their photo experience needs. We will customize your font, logo, and colors of your favorite print template to make sure that it fits your theme or brand perfectly.

Curated Props
Hats, sunglasses, boas, sign props, stick props. We offer the must unique and fun props out of any photo booth company.

HD Photography
HD Dsrl high-res camera takes crystal clear pictures of memories and laughter.
Unlimited Sessions
We don't put a limit on how many pictures your guest can take. The more the merrier!

Photo Gallery
Anyone who attends your event has access to our online gallery the following Monday.
For all inquiries please fill out our contact form or contact us via email.
If you need immediate assistance contact us at (917) 755-8177.