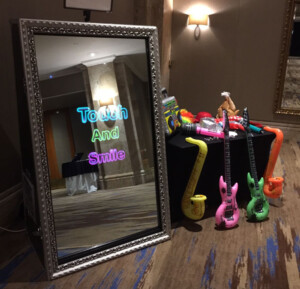 A selfie mirror booth is a popular activity to be found at weddings, proms, corporate events, and more. And anyone who has ever used one knows that it's just not the same without props. The props you choose can do a lot to set the tone of the activity and match the theme or style of the event. 
If you are looking to rent a selfie mirror photo booth for your next event, consider magic smiles. They offer packages complete with state-of-the-art equipment and fun accessories so you can give your attendees the best experience possible.
High-tech mirror booths come with a lot of fun features these days, like greenscreen backgrounds, airbrush capabilities, social sharing, and more. But just because your booth comes with awesome software doesn't mean you can neglect the classic accessories. Read on for some of the top props for capturing memorable photos at your next event.
Popular props for any photo booth
The types and styles of props you choose will always depend on the type of event and the theme. But there are a few go-to's that can be adapted to just about any event.
Costumes
Costumes are a good choice because they are easily customizable. You can put out a trunk of options, and attendees can decide how much or how little they want to put on for their photos. Some people may want to get decked out in full garb, while others may just want to grab a hat or a cape. Either way, they'll be having a blast. 
Masks and glasses
If you don't want to go all out with hats and clothing, it's still recommended to offer some things that guests can put on. Glasses are a classic in photo booth pics, often oversized and cartoonish. Masks are another good option, particularly for shy guests. Some people don't feel comfortable taking photos and hiding all or part of the face is a way to make them feel more at ease. 
Stick props
Stick props are a good alternative to the above choices because some people don't like putting on other people's hats or clothes. Particularly after the pandemic, some people are concerned about germs and may not feel comfortable wearing something they just watched another person take off. Instead, stick props can accomplish the same thing, offering users hats, glasses, and more to use in their photos. But instead of putting them on, all they have to do is hold them up for a quick pic. 
Signs
Signs are fun because you can offer premade signs or give guests the option to make their own. It's also a great way to work on the theme of the event. For example, at a wedding, you might offer signs that say things like "Congrats to the happy couple!" so guests can take pictures and leave them in the guest book.
3D and inflatables
If you want to go all out, consider three-dimensional props for guests to hold or set in their photos. Anything from an inflatable palm tree to a giant stuffed animal can be a fun addition to group photos. This is also a good way to work the event theme into your prop choices. 
Conclusion
The props will make the photo booth experience, and your guests will thank you when they take home photos to remember your events for years to come. 
If you're in the market to rent a mirror booth, we recommend magic smiles photobooth. They combine the latest tech with fun software features and accessories to help you make the most of your festivities.
Are you looking to rent a selfie mirror booth? Have you used one at an event in the past? Feel free to follow up with tips or questions below, and don't forget to like and share!