How Does A 360 camera booth rental work
Whats a 360 camera booth rental you ask? A 360 camera booth is a round platform that your guest stands on and a camera goes around them 360 degrees. The software turns the speed of the camera into slow motion and makes this awesome video. Many 360 video booth you can add sound to it and a overlay saying things like "happy Birthday". Many videos can be shared in 2-3 minutes after the experience. It is one of the most creative content captures there is, and the perfect experience for client's looking to add excitement to their live event or brand experience. There are a few videos in this article to help you get a better sense for how it works and looks at an event. Here at magicsmilesphotobooth you can find information.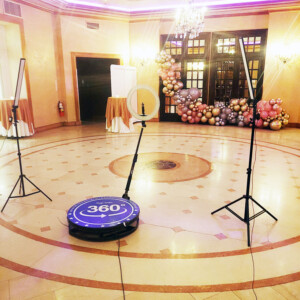 Once the session is complete, user's can transmit the digital slow-motion video to themselves via email or text message right from the event. To make the experience more personalized, you can even apply a custom overlay graphic, backdrop, survey and more. It is the perfect addition to weddings, birthday parties, corporate events and brand activations. The 360 booth rental will generally have a two hour window for setup and can be in service for any amount of time you desire. 
These are the steps of how a 360 camera booth rental works at a event
Step into the Booth: Guests or subjects step into the 360 photo booth, which is typically a circular or semi-circular structure with cameras positioned all around.

Pose and Capture: Once inside, guests are encouraged to strike poses or perform actions as the cameras simultaneously capture images from all angles. The cameras are often synchronized to capture shots at the same moment, ensuring a seamless 360-degree view.

Cameras and Lighting: The booth is equipped with a series of high-resolution cameras and suitable lighting to ensure well-exposed and high-quality images. These cameras are strategically positioned to capture the entire scene.

Processing: After capturing the images, the booth's software processes the data to create a single 360-degree image or a short animation, depending on the booth's capabilities.

Preview: Depending on the setup, guests may have the option to preview their 360-degree image or animation on a screen immediately after the capture. This allows them to see how their poses and actions turned out.

Sharing Options: Guests can often choose how they want to receive or share their 360-degree content. This can include options like email, text message, or social media sharing. Some booths can also create printed versions of the 360-degree image for guests to take home as souvenirs.

Customization: Many 360 photo booths offer customization options, allowing you to add branding elements, text, or overlays to the content. This is particularly popular for corporate events and marketing activations.

Event Staff: Depending on the rental package, some 360 photo booth services may provide event staff who assist guests, ensure the equipment is functioning correctly, and help manage the booth throughout the event.

Dismantling: After the event is over, the rental company will dismantle the booth and pack up their equipment for transport.

Content Delivery: You'll typically receive a digital copy of all the 360-degree photos or animations captured during the event. This content can be used for sharing on social media, creating digital albums, or for promotional purposes.

Payment: You'll settle the rental fee with the 360 photo booth company, which may include setup, operation, equipment rental, and any additional services or customization.
360 photo booths are popular at various events, including weddings, parties, corporate functions, trade shows, and promotional events. They provide a unique and engaging way for guests to capture memorable moments and share them with others.