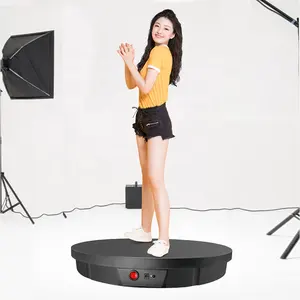 So you wanna know what is a 360? A 360 Photo Booth is a unique way to take videos at events. Instead of just capturing one angle, the booth rotates around the subject to capture a complete 360-degree view. This innovative trend in the photo booth industry is sure to impress your guests and make your party the talk of the town.
Instead of calling it a 360-picture booth, it's more accurate to describe it as a high-speed video booth that captures 120 frames per second. The subject will need to position themselves on a platform, and the camera will rotate around them, completing a full 360-degree circle. The result is a slow-motion video that highlights the subject's movements and expressions in detail.
The videos can be sent to the person's email or phone number. You can also add fun graphics to the video with an overlay. It's a new and exciting way to take videos. That's why it became popular so quickly.
The versatility of 360 photo booths has contributed to their growing popularity, as they can be used in a variety of settings and situations. Whether in physical stores or online marketplaces, the demand for these booths is on the rise due to their diverse applications. Here are some examples of different uses for 360 photo booths:
360 photo booth perfect for weddings
Nowadays, couples consider their wedding day a memorable and significant event, and they wish to make it flawless in every aspect, including the attire, cuisine, and entertainment. Among the popular entertainment options for weddings, the 360 photo booth has gained immense popularity.
The 360 photo booth machine offers a unique way to preserve memories of a wedding, allowing both the bride, groom, and their guests to enjoy the experience. By capturing 360-degree photos, it provides an all-encompassing record of this joyous occasion, making it an excellent addition to any wedding celebration.
Efficient Brand or Product Promotion
Brands can capitalize on 360-degree photo booths to strengthen their image and increase product recognition. Consumers develop a deeper appreciation for a product when they engage with it and capture memorable moments using the 360-degree photo booth, ultimately enhancing the brand's marketing efforts.
Capture every angle of your product or brand with our 360 photo booth, ensuring you never miss a shot. Our unique and engaging solution is perfect for trade shows and events, drawing in audiences and heightening brand awareness with minimal effort.
Concerned about the potential dullness of your social gathering? Fret not. Incorporate a 360 photo booth into one section, and your attendees will undoubtedly be enamored with your event. Whether it be a birthday celebration, wedding anniversary, or graduation ceremony, the inclusion of a 360 photo booth will undoubtedly infuse merriment into the festivities.
There will be no long waits for your guests to get their party videos with a 360 photo booth. They can quickly get a copy of their video or send it straight to their smartphone. You can relax knowing that the booth will entertain your guests at your event.
360 Virtual Tours are becoming increasingly popular in the fields of architecture, real estate, and tourism. To create these immersive experiences, 360 photo booths are utilized to capture a complete 360-degree image of various locations such as houses, hotels, and tourist destinations.
Allowing consumers to preview a particular location before physically visiting it is a valuable opportunity. 360-spinning videos have played a crucial role in presenting real estate properties, showcasing hotel facilities and services, and providing insights into architectural styles.
Nonetheless, the 360-degree photo booth offers a more intricate perspective on this conventional method of marketing and promotion. By immersing themselves in a 360-degree view of a particular location, consumers are able to encounter a multitude of fresh and unique experiences. Consequently, the utilization of this photography technique has proven to boost sales within these industries.
To make the most of your 360 photo booth experience, it's important to keep a few key factors in mind. By following these simple tips, you can ensure that your 360 video turns out great and leave a lasting impression.Location, location, location -Select the best location for your 360 video booth. you should place it where the machine can conveniently take videos of the subject in different directions. It means you must place it without any obstacles around it. Also make sure there is enough room for people to stand, Don't load the 360 photo booth..
Choose a location with good lighting to ensure that your photos are clear and vivid.
Since a 360 photo booth is different from a traditional photo, you should consider that the camera will capture everything. So, a distracting background can ruin an entire video.
Where Can You Purchase a 360 Photo Booth?
Having your own 360 photo booth can let you enjoy its benefits during your personal events. You can also rent it out for profit. Because of its popularity, the demand for 360 photo booths at events is high. It can be a good business to venture in.
Due to its high demand, clients will look for you, not the other way around. You can search for 360 photo booths on online commerce like Amazon and eBay. It is the most convenient way to shop for the best 360 photo booth that you can use to ramp up your events or start your photo booth rental business.
In Conclusion
The new generation of photography is here, and one of the must-have machines is the picture booth. This type of photo booth can be used for various purposes, from capturing precious moments at weddings to marketing and real estate.