Kids Parties a perfect for Long Island Photo booth Rentals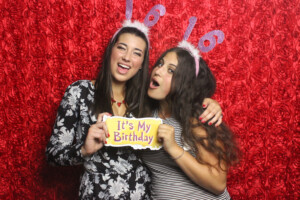 Getting a photo booth rental in Long island is a lot of fun for everyone. For kids, it's a great way to take pictures with friends and make memories from a special day. For grownups, it can be a great experience to watch kids ham it up in front of the camera. It also provides keepsakes from the birthday party for everyone who attends. For the parents throwing the birthday party, a long island photo booth rental is a hands-free activity that can be done alongside other activities. Kids can go in and out of the booth throughout the party, taking fun photos, using photo booth props, and having a great time. It can even coax a shy birthday boy or girl into getting in front of the camera.
A PHOTO BOOTH IN LONG ISLAND IS INSTANT ENTERTAINMENT
Even for those on the sidelines, having a birthday photo booth rental can be entertaining. At Magic Smiles Photo Booth, we offer a screen so everyone can see the pictures as they are being taken. We can help you dress it all up, including red carpet treatment with stanchions, and everything else you need to create an unforgettable moment. Great for boys and girls of all ages, a photo booth can help to keep everyone entertained while you prepare games and other activities. Our photo booth attendant keeps the line moving and hands out the photo booth props, meaning that it is one less thing you have to monitor or manage during the party.
CREATE MEMORIES WITH A PHOTO BOOTH RENTAL IN LONG ISLAND
Magic Smiles Photo Booth provides fast, instant prints. We use a professional-grade dye sublimation printer with fresh prints coming out just moments after they are taken. We use high-res DSLR cameras and professional studio strobe lighting for great-looking images that can be printed up to 24-inches by 36-inches without losing quality. With your long island photo booth rental, you get a digital copy of all photo strips and individual pictures taken during the party. Guests get a photo strip in their choice of color, black and white, or sepia that they can take home with them.
CUSTOM OPTIONS FOR BIRTHDAY PHOTO BOOTH RENTALS
In addition to providing your guests with a photo keepsake, you can also choose to customize the photo strip. Add a special layout and background color to match the theme of your party. Choose the number of photos to be displayed. You can even select a unique title to increase personalization. "Happy Birthday Jake 2018," "Jake's 8th Birthday Party" or any other combination can be used to remind guests of the special day. You can even add a logo and other customization options to create a truly custom experience to honor the birthday boy or girl.
FUN PHOTO BOOTH PROPS
As part of the rental package, Magic Smiles Photo Booth will bring a selection of quality photo booth props for your guests to use. Photo booth props can make taking photos even more fun and exciting than usual. You can add custom props that you purchase or make for yourself to coordinate with the theme of your party. Crazy hats, feather boas, glasses, mustaches, signs, and much more can all be included.
LONG ISLAND PHOTO BOOTH RENTAL ICE BREAKER
If you are bringing a lot of people together for your party that do not know each other well, a photo booth rental in long island is a great way to break the ice. Watching the kids hang out together and take turns in the photo booth can be a lot of fun. This is one of the top reasons why photo booth rentals are so popular for weddings, school dances, and other events where people might be nervous. Everyone enjoys taking a turn in the photo booth and sharing their pictures at the party.
CALL MAGIC SMILES PHOTO BOOTH FOR YOUR NEXT PARTY
If you are interested in learning more about our options for birthday photo booth rentals, give us a call at 9177558177. We have a variety of packages and pricing available online, as well as other add-ons to make your party extra special. We provide our services in Long island area, serving birthday parties, weddings, proms, anniversary parties, community gatherings, and charity events. Call today to get a FREE quote. We can answer any questions you might have about our custom options for photo booth props and extras for your photo booth in suffolk county and nassau county area.