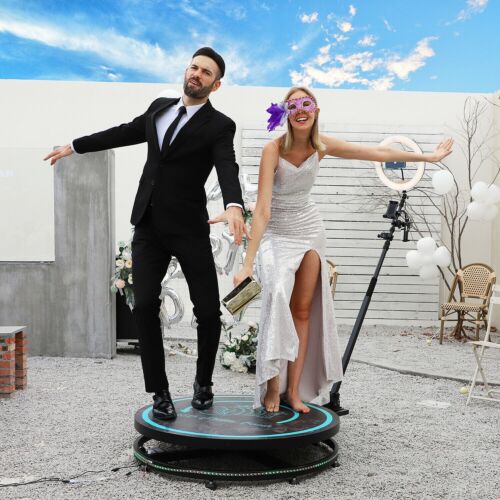 360 degree photo booths are a fun and interactive way to capture memories at events. They provide guests with a unique way to take photos that they can share on social media or take home as a keepsake. However, with so many options available, it can be difficult to choose the best 360 degree photo booth rental for your event. In this article, we will discuss the key factors you should consider when selecting a 360 photobooth company.
Size: The size of the 360 photo booth is an important factor to consider, especially if space is limited at your event. Consider how many guests you expect to attend and how much space you have available. Look for booths that can accommodate a large number of people without taking up too much space.
Quality of photos: The quality of the photos is another important factor to consider. Look for booths that use high-quality cameras and lighting to produce clear and vibrant photos. The resolution of the camera should be high enough to ensure that the photos look great even when printed in large sizes.
Features: Different 360 photo booths offer different features, such as custom branding, green screen backgrounds, and social media sharing options. Consider what features are important to you and your guests. For example, if you want to promote your brand at the event, a booth with custom branding options might be a good choice.
Ease of use: A 360 photo booth should be easy for guests to use, with clear instructions and a user-friendly interface. Look for booths that have simple touchscreen interfaces and straightforward instructions. You don't want your guests to struggle with using the booth, as this can lead to frustration and delays.
Cost: The cost of the 360 degree photo booth is also an important factor to consider. Prices can vary widely depending on the features offered and the quality of the booth. Consider your budget and how much you are willing to spend on a photo booth. Keep in mind that a high-quality booth with great features may be worth the extra cost if it provides a better experience for your guests.
Customer support: Finally, consider the level of customer support offered by the photo booth provider. Look for providers who offer responsive customer support and clear instructions on how to set up and use the booth. You want to ensure that any issues that arise during the event can be quickly addressed to minimize any disruptions to the guest experience.
In conclusion, choosing the best 360 photo booth rental for your event requires careful consideration of several factors, including size, photo quality, features, ease of use, cost, and customer support. By taking the time to evaluate your options and selecting a high-quality booth that meets your needs, you can provide your guests with a fun and memorable experience that they will cherish for years to come.