How long does it take to rent a photo booth for a wedding?
The process of planning a wedding can be exhausting, unpleasant, and complicated, but it can also be a great deal of pleasure. In the process of planning your wedding day suppliers, you may be wondering whether or not you will, if you're like most people, you're probably not sure what a photo booth is or how it may help you and your guests on your wedding day. We've put together the whole guidebook to answer all of your photo booth concerns to relieve you of one more thing on your already overburdened wedding preparation plate. So put your feet up, grab a cup of your favorite drink, and get ready to learn everything there is to know further about  photo booth rental in New York.
If you're among those individuals who are looking for wedding photo booth rentals, one of the most important considerations to examine is how long the rental should last. When the ceremony is included, a wedding reception might last anywhere from four to five hours in total. Consequently, the photo booth can seriously make your entire  look more captivating and engaging.
Why are photo booths so important at weddings?
There is no denying the fact that guests of all ages enjoy taking pictures in a vintage photo booth on long island, which gives them something to do when people want to take a break from dancing. To top it all off, a 360 photo booth wedding rental can serve as a terrific way to introduce guests who may not have seen each other in a long time or who may not know many people at your wedding to get to know one another better.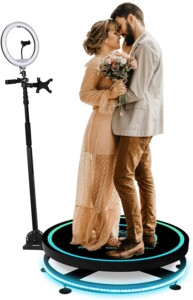 Wedding Photo Booth Rental
You can never have too many guests at a dull wedding. A supplementary amusement is provided by a 360 photo booth wedding rental. To keep spirits up and moods party-ready, provide extra activities for your guests. This will result in more laughter and contact with your guests. Preserve them as souvenirs or use them as nostalgic memories when the wedding is over. If you are searching for the best photo booth for rent then u came to the right place.
Will renting a photo booth worth it?
As far as entertainment goes, a wedding photo booth rental in Suffolk county is outstanding. If you haven't seen each other for some time, a photo booth is a terrific way to rekindle old friendships and make new ones at your wedding. A photo booth rental is an excellent choice if you want to keep your guests entertained during your event.
Depending on how successfully they are executed, they can be the day's high point or low point. As a bonus, attendees who haven't seen each other in years can use a photo booth to break the ice and make new friends! A great wedding is all about finding the perfect balance between your wedding budget and what you can afford to spend on your guests. If you find it extremely hard to find the right photo booth rentals then you can consider reading this entire blog.
How Much Does It Cost To Have A Photo Booth At A Wedding?
In the United States, photo booth rental price is between $525 and $1,000 with picture booths costing an average of $551. A lot depends on your wedding's style and budget, as well as how long the booth will be set up.
Conclusion 
We truly hope that this blog might have provided all the required information about the best wedding booth rental. If you still require more information then you can easily check out the official website of