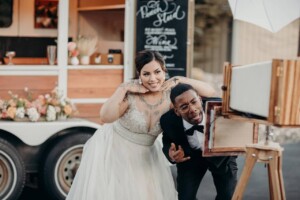 Thinking of a photo booth company for your event or wedding in queens, bronx, brooklyn or anywhere in new york city area?
Here is how to pick the one that is right for you. Your guide to renting a photo booth.
Photo booths have been all the rage at weddings in new york area for the last few years. I personally LOVE them! But if you are thinking about having a photo booth company at your wedding or event, there are some things that you should consider before you decide which one is right for you. There are many photo booths out there. So what do you choose when you want to rent a photo booth company? Here are some important details to consider:
Size – How much space do you have for a photo booth? The booths with a hard shell are really cool but they take up a lot of space. Also, you are limited to how many people you can fit inside. Photo booths that have a removable curtain can accommodate as many people as you want. So, get a group shot with all 7 bridesmaids or your extended family! An open booth can also be arranged to capture the gorgeous background that you probably have if your event is in the mountains or other scenic area, or use an elegant backdrop for even larger group fun. Open style booths are quickly becoming the most demanded style.
Green Screen – Some photo booth company offer green screen technology. With a green screen you can project any photo in the background; which is pretty cool! This is usually an added cost, so you will have to weigh the cost/value. It will also take up a little more space and may not look as attractive as a traditional photo backdrop. It is more common for special events and business functions, and not as popular for weddings.
Camera – web cam vs. DSLR? I would caution you against any photo booth that uses a web camera. Webcams do not take good quality photos. The best photo booths use DSLR cameras with at least 10 megapixels. If you want to blow up a photo at a later date, anything less than 10 megapixels is going to look grainy or fuzzy. Too many booth companies use low resolution photos in order to gain speed on lower end equipment. You want a provider that has high end professional hardware capable of both speed and quality photos.
Video – Video sounds cool but in reality, most people freeze up when the camera starts rolling. If you are considering using video in your photo booth, just realize that it will take longer to get your guests through the line as there will inevitably be many retakes before they get it right. That being said, it would be cool to let your friends and family leave you with a personal message for you to see after your wedding. Maybe the booth company even offers a dedicate video kiosk.
Social media – OK, you and your girlfriends just took the "perfect" group mustache shot and you want to post it on Facebook right now! Some photo booth companies have the ability to let you upload your picture at the event. Also, what about later? Is there a kiosk where you can upload pics and post them on social media sites? Can you and your guests print them out for free or is there a cost? Can you get your favorite photo from them through a website or do you have to make a personal request to the company? All of these options elevate the enjoyment of your guests; seek a booth provider that can bundle them into your service package.
Layout – What type of layout are you looking for with the prints? Do you want photo strips with several small pictures, a 4×6 with three pics and a logo, or one big 4×6 style photo? Can you add you own personal touch like a logo, quote, a pic of the mountains where you are having your wedding, or color that matches your wedding/event? If you are going the photo strip route, does the printer cut the strip for you and will it make a straight cut? Very few printers have the ability to slice the photo strips and only the best of the best can do it straight. Too many booth companies end up having an attendant cut the strips with scissors – slowing the service and providing a less than professional approach to the product.
Props – Are the props fun and appropriate for your party? How will they be displayed? Will they be thrown on a table haphazardly or will they be organized in a wardrobe or neatly on professional display racks? Can you request certain themed props like mustaches, or sports paraphernalia? Is there an extra cost for props or are they included?
Touch screen and other options – Do you want a touch screen that you and your guests can control which gives you more privacy or do you want the attendant to be in control? Also, what if you take a bad picture? Does the company allow unlimited sessions? What about if there are 3 people in the photo? Does everyone get a photo strip? The best companies make sure folks can enjoy the booth with unlimited sessions and make certain everyone in the photo gets a copy of the photo strip.
Staffed by an attendant – Will there be someone onsite to assist your guests, keep the props in order, handle any technical booth issues, and most importantly be the entertainment concierge to make sure the fun is being enjoyed by everyone?
References and online presence – Any company worth hiring has testimonials and a strong online presence. If a company's website looks poorly designed, what does that tell you about the pride they take in themselves? If a company cannot stand proud and look good online, how can they look good at your event? A good looking website with testimonials and photos of recent setups at events says a great deal that words alone cannot. You want to see photos!
There are a number of other aspects to consider along with these key points. The one thing that should not be a major deciding factor is choosing the company with the lowest price. While the lowest price company may be a option, price alone can be a dangerous deciding factor. The internet is filled with horror stories of brides left stranded on the big day by lowest price vendors that could not meet the demands of a professional wedding services business.  Focus on quality vendors that have proven history and fair prices.  As Benjamin Franklin once said, "The bitterness of poor quality remains long after the sweetness of low price is forgotten."
While this was written as a guide to choosing a booth company, it also highlights the advantages that magic smiles Photo Booth has over other vendors in the queens, and long island area. We provide curtained booths that are capable of converting from enclosed to open air in seconds! We have gorgeous open air style kiosks that are complimented with elegant backdrops. We offer green screen, video, and a separate kiosk that can email, post to social media, reprint photos and more! Our lighting is studio quality and while balanced and our camera is a professional series Canon DSLR and Canon Pro series optical lens providing 18megapixels assuring your photos are crisp, proper colors, and captured in a format that allows resizing to large prints. Our props collection is the largest in the area and we use elegant display racks for presentation – not an unattractive fold up table with bins that give the vibe of a yard sale (yes we tend to get a bit critical of how things look, but you deserve the BEST!) We offer lush red velvet roped and red carpet booth entrance to make your guests fell like Hollywood stars. Add to this our easy to use touch screen, custom layout options, and the many elegant and unique options not even mentioned here, and you have a booth company serving the new york and long island areas that will make your guests feel like like STARS!
From brooklyn to queens to the bronx and new york city, we have thousands of smiling faces as testimony… contact us to discuss your event and reserve your date!