The 10 best occasions to have a PhotoBooth!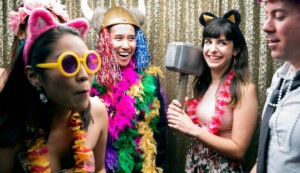 Whether it's serving as a decoration, entertaining your guests, or letting your guests take home memories of the party, it is no wonder inflatable photobooth rentals are becoming this year's biggest hit! Want to experience what everyone is talking about, but not quite sure the right occasion? Not to worry! Below we countdown some of the best and most popular occasions to rent our high-end, industry-leading NYC Photo booth and FlipBook services!
---
 1. Wedding

If there is one day in your life that you want to remember in pristine detail, it's your wedding! open Photo Booths are becoming more popular with today's trendiest weddings. People of all ages and generations can gather in the booth and put on all sorts of fun props, preserving memories that will last a lifetime. We guarantee that your guests will leave the booth smiling and laughing!
---
2. Christmas holiday parties
Every year, companies look for new, innovative ways to gather their employees and thank them for their hard work. What better way to thank them and start the holidays off right than with a great party! 360 photo booth rentals, Slow Motion Studio and Photo Booths are guaranteed to be a surefire hit at your Christmas Party. You can even use the final product for corporate marketing! Your employees will love it!
---
3. Galas and fundraising events
No event is too fancy to have a photo booth! Especially when you can customize the backdrop with glitter, and have the classiest props we offer! People love to escape in-between meals to go take fun pictures with their partners. Booth pictures will add a fun touch to any gala or fundraising event! Increased engagement can lead to more guests and more giving!
---
4. Kid's birthday
Out of anyone, kids are  our most loyal customers at every event. They will hang around the prop table, wanting to try them all on of course, and proudly show their parents the resulting pictures. So, as you can imagine, a long island photo booth rental dedicated to a kid's party is always dynamic and a lot of fun! Needless to say, children are our most creative clients with the props, and their moments can be immortalized forever. And what about a cool, fun picture of your child to send to grandma this year?
---
5. Your Birthday!
Everyone needs a little me-present to themselves! Unlike more official events, the birthday party inflatable photo booth is definitely the one people go most crazy in! A fun, colorful backdrop sets the tone, while you and your guests will have the time of their life with the goofy accessories! There are infinite possibilities with a birthday booth! What about doing a picture competition? After the cocktail hour, your guests will be very creative, trust us!
---
6. Mitzvah
A Photo Booth rental ny will boost any Bar/Bat Mitzvah! Kids will stay around the booth, taking pictures with their friends and having fun, while families will try to gather the aunts and uncles, grandfathers and grandmothers for a unique family picture!
---
7. Product Launch
A mirror photo booth at a product launch party is a genius idea, and the word is getting out there.. Imagine a customized backdrop, with the logo of the company, or a green screen where you can choose from 8 different images (the new product, the company brand name, company logos, etc…). And as far as the props go…how about everyone posing with the new product you are launching! Is there a better way to increase brand awareness than having every guest take home fun, crazy photos to show their friends? This is, bar none, the best, most original way to announce or celebrate the launch of a new product.
---
8. Company anniversary
A company anniversary is a great way to gather and celebrate with all your employees! And why stop there? Invite stakeholders, customers, and families, and make it a real party with one of our signature Photobooths. Your audience will be happy to gather around the camera and celebrate a successful year. Be careful however – we guarantee they will ask for a photobooth the following year! Hint: create an anniversary logo that will be printed on the pictures.
---
9. Team Building
Companies are getting more focused about team building, as they should! Between increasing team cohesion, improving internal communication, and making employees more productive, team building is very much necessary in today's business environment. The challenge is to find new, playful ways to bring employees together. And in this way, photo booths offer interesting challenges and provide fun games that people can play!
---
10. Festival
The keyword of any festival is : Entertainment! Well that's perfect, because a photobooth moto is : "Have fun!". Whether it is a music festival, a movie festival, or a beer festival, guests would love a little memento to bring home to celebrate good times. Capture the moment in a photobooth, and bring the festival's energy back home.